Altivar 610 - new Schneider Electric series of variable speed drives for applications from 0.75 to 160 kW / 1 to 216 HP

The Easy Altivar 610 offer covers motor power ratings from 0.75 to 160 kW/1.04 to 222 HP for three-phase voltages between 380 and 415 V. Easy Altivar 610 drives can help improve equipment performance and reduce operating costs by optimizing energy consumption and user comfort. A communication module is available for seamless integration into the main automation architectures. Easy Altivar 610 drives feature various configurable I/O as standard to facilitate adaptation to specific applications. They offer a plug & play solution, whereby parameters are preset in the factory to the desired configuration, to help save process control and operating time.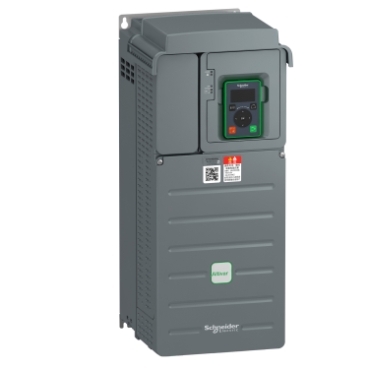 Rugged
Easy Altivar 610 drives are robust products designed to adapt to various levels of thermal stress and to harsh environments.
Operating temperature (for continuous monitoring)
Mounting in enclosure: mounted singly or side-by-side: -15...+60 °C/+5...+140 °F, 45...60 °C/113...140 °F with derating
Storage and transport temperature: -40...+70 °C /-104...+158 °F
Operating altitude:
0...1,000 m without derating
1,000...4,800 m with derating of 1% per 100 m/328.08 ft
chemical class 3C3 conforming to IEC/EN 60721
mechanical class 3S3 conforming to IEC/EN 60721
electronic cards with protective coating
Protection to suit requirements:
IP 20 for mounting in enclosure
IP 40 on the top of the product
IP 43 for remote display terminal
Electromagnetic compatibility (EMC)
Compliance with electromagnetic compatibility requirements has been incorporated into the design of the drive, which simplifies installation and provides an economical means of helping to ensure equipment meets e marking requirements.
Easy Altivar 610 drives have a category C3 EMC filter
Installation and maintenance
Easy Altivar 610 drives are ergonomically designed to adapt to any type of installation:
Products, systems, or integrated in iMCC
IP 20
Easy installation of products and systems:
cable entry equipped with Romex cable glands to maintain an EMC connection for the power and control cable
color code for connections to the display terminal and control terminals
Asynchronous drive in open loop for 0.1...500 Hz output frequency
Lower maintenance costs:
fans can be replaced in less than 5 minutes
no maintenance tool required
limited number of parts
Green product
Easy Altivar 610 drives have been designed to have a smaller carbon footprint: the Green Premium product label, Schneider Electric's eco-mark, indicates your compliance with international environmental standards such as:
RoHS-2 according to EU directive e 2002/95
REACH according to EU regulation 1907/2006
IEC 62635: the end-of-life instructions comply with the latest recycling rules, 70% of the product components can be recycled.
Typical applications in the market segments

Water & wastewater
Intake pump
Booster pump
Lifting pump
Aeration blower
Oil & Gas
Circulating pump
Drain pump
Oil transfer pump
Pump and fan applications in Process & machine management domains
Air cooling system fan
Circulating pump
Cooling fan
Draught fan
Compressor
Conveyor
Pump and fan applications in Building management domai
You can find more info here: 
EASY ALTIVAR 610