Altivar 310
The EasyTM Altivar 310 drive is a frequency inverter for three-phase 380…460 V asynchronous motors rated from 0.37 kW/0.5 HP to 22 kW/30 HP.

By taking account of the constraints governing installation and use at the product design stage, we have been able to offer a reliable, cost-effective solution to manufacturers of compact machines (OEMs).
The Easy Altivar 310 has been developed with no compromise on quality: the components are designed to last 10 years.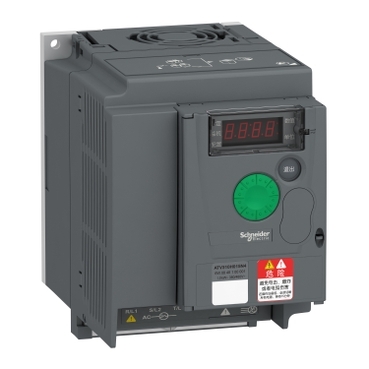 Functions

In addition to the functions usually available on this type of drive, the Easy Altivar 310 drive also features the following:

Motor control functions
Motor control profiles: standard, performance and pump/fan
Cooling fan thermal control
Switching frequency management
Boost torque
Motor noise reduction
Current limitation
Auto DC injection


Application functions
Frequency skip
Preset speeds
PID regulator
S ramp, U ramp, ramp switching
Jog operation
+/- speed around reference
Freewheel stop, fast stop
Automatic catching a spinning load with speed detection and automatic restart

Control functions
Channel configuration - separate mode or not
Reference channel selection
Reverse inhibition
Force local control
Store customer parameter settings

Protection and maintenance functions
Protection of the installation by means of underload and overload detection
Maintenance functions:
HMI password
Configuring the logic and analog I/O
Configuring how the parameters are displayed
Viewing the state of the logic inputs on the drive display
Key parameters display (drive power on / Fan time / Process elapsed time)
The last 4 fault display, error log, etc.


Applications
The Easy Altivar 310 drive incorporates functions that are suitable for the most common applications, including:
Textile machine
Machine tools
Wood making machine
Material handling
Packaging and printing machines
Ceramic machine



You can find more details here: Easy Altivar 310