When lots of people share a room, the air can get stale. This is mostly caused by exhaled carbon dioxide (CO2). The results are: Reduction in well-being, concentration and performance.
Reliably measure CO2 concentration
CO2 sensors from Theben monitor CO2 concentrations in schools and classrooms, in offices and meeting rooms or in
passive and low-energy buildings. CO2 sensors thereby make a decisive contribution to indoor air quality.
More details about CO2 sensors and other Theben highlights can be found in the brochure:
Theben Highlights 2021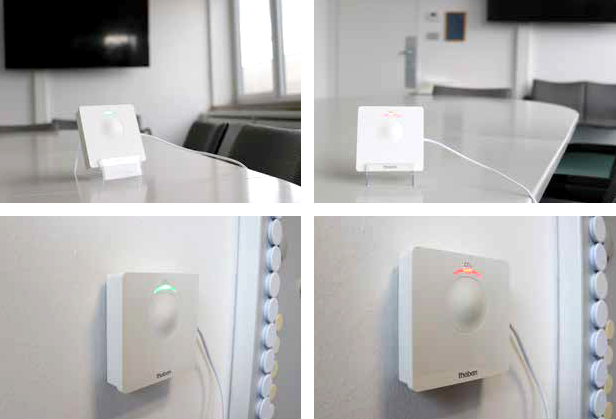 Details:
- Suitable for schools/nurseries, offices, conference
or meeting rooms and living spaces
- The device warns optically via the LED
traffic light system in case of a potentially
dangerous CO2 concentration - so ventilation
can be optimized immediately and a healthy
room climate can be created
- Fresh air must be supplied and the used air
removed at latest when the red threshold
value is reached
- Includes USB cable for easy setup
- Stand and non-slip pad included, alternative
wall mounting is also possible