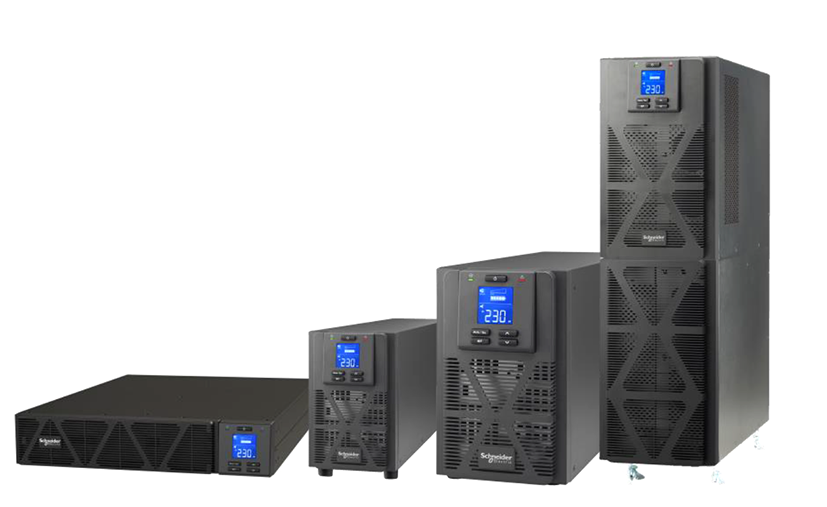 EASY UPS Line Interactive is an Uninterruptable Power Supply designed for essential power protection in the most unstable power conditions.
Schneider Electric Easy UPS Line-Interactive Sinewave SMVS is a versatile uninterruptable power supply developed to handle a wide voltage range in regions with inconsistent power conditions while also delivering quality millions of professionals trust around the world.
Advantages
• LCD Display: Intuitive interface provides comprehensive status information at a glance
• Pure Sine-Wave Output: Provides optimum device compatibility when on battery
• Automatic Voltage Regulation        
• Communication Ports: USB and serial ports for UPS management
• Generous number of outlets: All receptacles are surge and UPS output protected
• Rugged Sheet Metal Construction: Rigidly holds and protects critical electrical components
• Battery connector: Convenient way to disconnect battery for transport.
• Safety-agency approved: Ensures the product has been tested and approved to national standards
Available models:
Tower Models (standard & extended runtime)
Available in 1, 2, 3, 6, 10 KVA
Rack Models (standard & extended runtime)
Standard available in 1, 2, 3, 6, 10 KVA
Extended available in 6 & 10 KVA


Easy UPS Online LCD Display
1. On/Off Status LED: indicates power is ON
2. On/Off Button: Press to turn UPS On or OFF
3. Alert LED: lashes red when UPS has a notification or is steady state when there is a fault
4. Mute/ESC button: Mutes alarm and serves as the Escape key when in the sub menus of the display
5. Enter Key:Press to enter the display menus and choose an option within the menu
6. Up/Down Arrows: Navigate keys through the display menus



You can find more details in these brochures:

SE_EASY UPS BVS SERIES.PDF

SE_EASY UPS SMVS SERIES.PDF 

SE_EASY UPS SRVS SERIES.PDF