IME launched the 
new CONTO
, the new range of energy meters.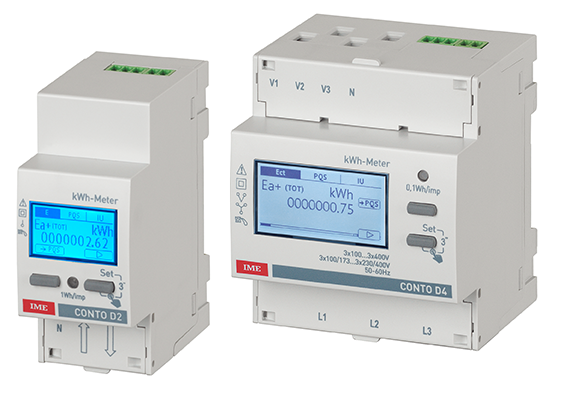 The new CONTO range is renewed with new and more performing modern devices.
IME energy meters represent an offer innovation in terms of performance, usability, aesthetics and functions.
Thanks to RS485 Modbus communication it is possible to integrate our webserver, so now you can:
• determine the annual energy needs, so define the consumption distribution
• analyze data and improve process
• analyze the evolution over time to control the performances
• manage multisite electrical installations remotely and / or locally using smartphone, table, PC….
Thanks to webserver CONTO, multifunction meters and NEMO SX system can synergically work together.
Now the new series can collect pulse from water or gas meters to have a complete view of the consumption of the building.
The new CONTO is aimed to who want to know the consumption to save energy and answer to the current standards and for tax purposes applications (MID version) thanks to European directive homologation 2004/22/CE.
Here you can download detail brochure: 
CONTO static energy meters_IME
You can see application examples here: 
CONTO application examples
The main features
New display… New design
- Backlit graphic display: clear indication and easy to manage
- Simplified reading mode, intuitive and simple interface
- Bidirectional measurement (E + and E-)
- 9-digit display
- Partial measurement of the active and reactive energy
- Easy access to the setup menu: simplified HMI…
- 2 buttons to navigate or enter the setup mode
Measurement on 4 quadrants
1, 2, 4, & 6 modules
Single phase or three-phase network 34/45 – 63A – 125A – 5A CT input
Available in MID or NO MID versions
- MID
Active energy in class B (IEC/EN50470-1, IEC/EN50470-3)
Reactive energy in class 2 (IEC/EN 62053-23)
- NO MID
Active energy in class 1 (IEC 62053-21)
Reactive energy in class 2 (IEC62053-23)
Memory
- An embedded no-volatile memory to storage the total energies
- Partial energy is resettable
Connectors
- Standard sealable terminal blocks
- All the connectors (N and L) have the same size
Communication
- Pulse output or MODBUS or M-bus communication
- Through dedicated interfaces it is possible to communicate with Ethernet or KNX protocols
Integrated input or double tariff
- 1 impulse input for gas meters or water. In alternative double tariff
Temperature range:
-25°C +55°C